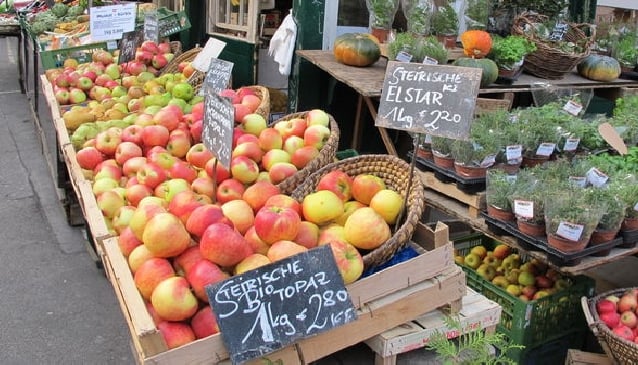 The open-air markets of Vienna
Food & Drink
If you can only fit one open-air market into your visit to Vienna, make it Naschmarkt.
There are few better ways to peer into the culture of Vienna than by visiting one of its open-air markets, where locals congregate to socialise and shop against the city's gloriously picturesque backdrop. There are around 26 such markets dotted around Austria's capital, along with a selection of more transient traders who all contribute to the melting pot of ethnic influences that shape the city. The markets offer not only some of the best shopping in Vienna, but the whole of Europe.
As well as displaying the customs and personality of the Viennese people, open-air markets present an opportunity to sample the raw flavours that go into the city's cuisine, not to mention a cornucopia of souvenirs to take home, and should therefore be an essential part of any visitor's itinerary. Scroll down to read about the ones you shouldn't miss, along with a couple that have remained relatively undiscovered by the tentacles of tourism.
Naschmarkt
If you can only fit one open-air market into your visit to Vienna, make it Naschmarkt. The city's largest market (about 2.3 hectares in size) is also a major tourist attraction, having changed very little since its creation shortly after the turn of the twentieth century. There are more than 170 stands (and over 200 on Saturdays) which sell every kind of food, from fruit and vegetables to spices, pickles, cheeses and breads.
The market is also known as Kettenbrückengasse (or, for those who can't pronounce that, Karlsplatz), and is adjoined to a flea market (open every Saturday from 8am to 2pm)which offers a plethora of wares from clothes to art, antiques to jewelry. But there's as much to see in the surrounding Jugenstil architecture as there is splayed across the vibrant stalls; visit in the early morning to make the most of these Art Nouveau constructions in the soft, golden rays of sunlight that herald each new day.
Brunnenmarkt
Viennese markets don't come much rawer than Brunnenmarkt, Europe's longest street market, which is dismantled each evening and reassembled the following morning to leave the Ottakringstrasse free from obstruction throughout the night. Often described as an oriental bazaar, this is considered to be a cheaper and quieter alternative to Naschmarkt, well away from the tourist trail.
Brunnenmarkt translates as Fountain Market, which refers to a fountain that brought water to the Imperial Hofburg Palace from nearby Vienna Woods. It was around this fountain that the market grew in the late 1700s, and while the water feature was taken down to make way for a tram route in 1880, the market remained.
Yppenmarkt
Over the past 10 years, Yppenplatz has blossomed into the focal point of Vienna's trendy scene, attracting the city's young intellectuals and artists each weekend, where they massage their minds in a smattering of fantastic bars, pubs and independent stores. This is also where you'll find Yppenmarkt, a cosy market situated upon Yppenplatz, at the centre of which sits Yppenheim, a community army shelter dating from the 19th century. Be warned: the fashionable air that hangs around the area has driven prices up, but it is a lovely place to hang out and people-watch nonetheless.
Karmelitermarkt
Not a lot of people know about Karmelitermarkt, one of the oldest of Vienna's markets, and its well-worn passageways are less crowded as a result. It is situated in a large square lined with quaint cafés, just two streets away from Karmeliterplatz tram station, and within the Karmeliterquarter. This is the hub of the city's Jewish community, and home to a diverse array of other ethnicities which all feed into the market. Here, you will find Turkish butchers who are reputed to sell Vienna's best lamb, as well as a delightful Georgian restaurant called Madiani – a particular favourite of the team.
Rochusmarkt
With just 30 permanent stalls, Rochusmarkt is notable for being quieter and more relaxed than many of Vienna's other open-air markets. Situated within spitting distance of the city's main attractions, and right outside the Landstrasser Hauptstrasse metro station, it specialisesin fruit, vegetables, flowers and fresh meat, and is therefore a delightful place to head if you're after a light snack. Saturdays at Rochusmarkt are particularly exciting, as the market swells to almost double its size with the arrival of farmers from outside the city, who bring with them a mouth-watering selection of fresh, organic goods.