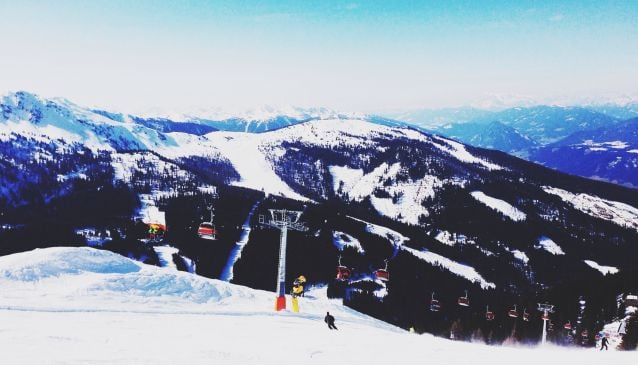 Austria's best ski resorts
Family Fun
Austria's slopes are a paradise for anybody who loves skiing.
Over the past decades Austria has acquired more and more resonance as a skiing destination, beloved by both locals and visitors from abroad. But not everybody knows that skiing in Austria can be a synonym for many different traditions, mores and slopes! During the cold and snowy winters, the Austrian mountains offer warm and cozy huts, delicious homemade meals and a vibrant après ski party scene. During the Austrian ski season the welcomes are, the service standards are high, and the lift systems are impeccable. Here you'll find listed and described some of the most beloved ski resorts in Austria for advanced skiers, intermediates and beginners. All this makes Austria a great destination for your next ski holiday!
You will find this ski resort listed as #1 according to many others as well, and for a good reason. St. Anton is just the perfect place to go for those who know how to ski, how to party and how to spend! St. Anton is a great mix of luxury, good slopes and après ski. This resort offers some great slopes, but mainly for those who can go down a black piste with little trouble. St. Anton also offers many off-piste runs that generally aren't listed on the piste map. So, if you want to go down one of the untracked slopes, you will have to find a local guide or go to the tourist office. Here you'll also find the self-proclaimed "worst ski hut on the Arlberg": the MooserWirt, the infamous pist-side après ski hut, where table dancing and an average consumption of 2,500 liters of beer are daily routines. At the MooserWirt, the same DJ has been spinning discs for the past 20 years, having missed only 12 days! If you'll get tired of the MooserWirt, you can always stop by the Crazy Kanguruh, another very famous après ski hut in St. Anton.
If you're not an accomplished skier just yet and have some money to spend, we advise you try skiing down a few of the intermediate slopes that Lech offers – both on- and off-piste. Lech is really close to St. Anton, so if you prefer to spend your nights in St. Anton, you can always commute between the two ski resorts with the ski bus during the day and be back for the party in St. Anton at night. Lech, however, is known for its great party scene, making it a beloved destination for younger crowds who can afford to stay at this more fashionable ski resort. Most of the pistes here are centered on Oberlech and Zuger Hochlicht offers some really great views. As far as the lift-transportation goes, here you are likely to stumble upon a few bottlenecks at the lifts, but much less since almost all of them are new and fast. A few chairlifts even have heated seats.
A little further southeast of Lech, quite close to the Italian border, you will find the highest glacier in Tyrol: the Pitztaler Glacier. This glacier, with its sure snows and constantly snowy peaks, gives visitors a chance to ski from September until May. This glacier is one of the new highlights of the Tyrolean region, especially thanks to the newly built highest cable car in Austria. Pitztal's cable car brings you comfortably, with heated seats all the way up to the famous Hinteren Brunnenkogel, where you can relax at the "Café 3,440" and enjoy some of the most stunning views of the 3,774 m high Wildspitze before going down a slope. The Pitztaler Glacier offers a varied winter landscape, with over 41km of ski runs. This gives you a chance to choose from easy, moderate or more difficult runs on the wide glacier slopes or even many off-piste runs through trees.
The Zillertal Valley interlinks many different ski areas such as Hippach, Finkenberg and Lanersbachthe. However, the favorite one is Mayrhofen. In terms of après ski scene, Mayrhofen accommodates the tastes of different visitors, as it offers quiet retreats and bars as well as loud clubs. Here, you will find people of all ages and party-preferences. The main resort area is on the Penken Mountain, most easily reached with the Penken gondola from the center of Mayrhofen. With over 134 km of runs throughout the season, Mayrhofen does offer a wide range of slopes to both amateur and advanced skiers. This ski resort is also the home of Austria's steepest slope with an inclination of 78% and a length of 1,500 meters – the Harakiri, named after the Samurai's suicide ritual, the seppuku. With its wide variety of runs (mainly groomed), different après ski activities and affordable prices, Mayrhofen is a great destination for everyone!
Similarly to Mayrhofen, Obertauern is a great ski resort to visit if you are with a bunch of young friends and are craving for some good slopes, sure snow and a young party scene! Obertauern offers a lot of great quality snow and very well maintained slopes throughout the whole skiing season and ski runs for all levels of skiers. Obertauern isn't too commercial, which allows it not to be too overcrowded but still offers plenty of lifts and après ski bars! This ski resort offers a great variety of skiing schools for those seeking private tuition. Also the nursery slopes are perfect for kids!
Skiing in Austria is absolutely unique and outstanding experience. From Tyrol to Styria, Austria offers all kinds of ski resorts and slopes for skiers of all levels! It is good to keep in mind that the best time to go skiing in Austria remains the high season: from December to February. The accommodation will be a little pricier in this timeframe, but the quality of the snow will pay off! If you consider skiing outside of the peak season, you should consider choosing a glacier as your ski resort to make sure the snow won't be too wet. Overall, Austria offers picturesque landscapes, wide slopes, quiet runs, a fantastic après ski and delicious homemade typical dishes such as the famous Eiernockerl or the Schweinsbraten. Prost!