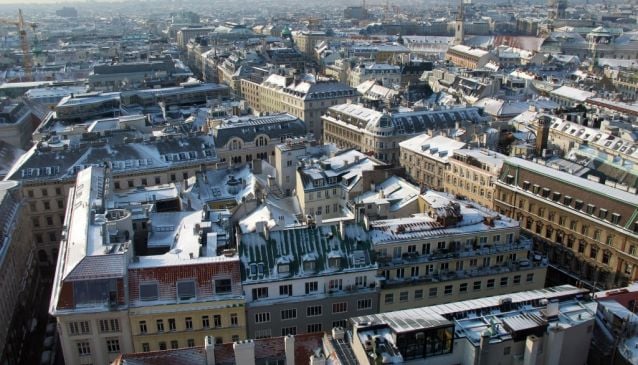 Top Ten Vienna
Inspiration
You can easily spend days exploring what Vienna's palaces have to offer
Many destinations are synonymised by their most famous export and the refined heritage and culture of Vienna has earned it a reputation as a hotspot for lovers of civilisation and class.
Aside from the plethora of world-class composers whose influence is a legacy rightly cultivated, Vienna radiates an array of things to see, be it grand palaces, statuesque churches and buildings noteworthy in their architectural elegance. Indeed, come to Vienna and you will be struck by how well put together everything appears. The buildings have purpose and the people poise.
Poise however, was not something inherent to my time spent in the city; given it was my mission to explore all this imperial metropolis had to throw at me, with just three days in which to do it…
From a Renaissance opera house to psychoanalysis, Sachertorte to sealions this is my guide on how to 'do Vienna' the My Guide way...
The Gothic St Stephan's Cathedral is as impressive on the outside as it is on the in. It is however, also home to a pretty remarkable view point, at the top of its south tower. The 343 steps are a bit of a challenge but rest assured the effort is well worth it as the views out over the capital are first class.
Tip: If possible try and climb the tower when it's quiet. The staircase is very narrow and you're best not having to navigate your way past too many people moving in the opposite direction.
Opera is a little like Marmite: you either love it or hate it. Or so I thought. A lover of orchestral music, my experience up to date was akin to those who turn their nose up at a healthy dollop of ketchup on a Michelin Stared meal. The core product is more than enough to satisfy; anything else is overkill (though I do happen to love ketchup). And now, while 'love' may be pushing it, I have opened my eyes to opera. Thanks to Vienna.
The Vienna State Opera House is an impressive Renaissance building with a magnificent grand stone staircase leading up to the theatre – a space large enough to seat 2,880 people. However, as I discovered you don't need to pay for a seat to enjoy a performance here. Standing places are available for a mere €3 and a wait (you have to queue to buy your ticket 80 minutes before the performance), meaning you can enjoy the very best of Vienna's opera scene, and a chance to ogle the magnificent building itself for less than a pint of beer. You do have to be committed to stand for the whole 90 minute halves… but of course for only €3 you can always call it a night after the first…
Tip: Once in the theatre save your space by tying a scarf onto the rail in front of you.
You may not know it but Vienna's Schönbrunn Zoo is in fact the oldest in the world. Founded in 1752 it was created as an imperial menagerie and has topped many 'Best Zoo' lists since due to its approach towards conservation as well as its layout, which has stayed true to its baroque heritage.
To take in the whole zoo you'll need a good day (especially since you access it though the Schönbrunn Palace Gardens… a very pleasant distraction). Animals you can expect to see here include elephants, rhinos, tigers, orang-utans, lions, penguins, polar bears and zebras as well as all manner of birds, reptiles, fish and insects. As well as the notable lack of bars and cages, you'll also notice that here you can get much closer to the animals. Glass panes or cordoned off ditches ensure everyone has their personal space, however, the feeling is very much one of unity. You can see into the animal's eyes, and this is why adults and children alike will fall in love with the place.
Tip: Don't forget to take a walk up to the Glorietta on your departure… the views of the Schönbrunn Palace are not to be missed.
If you happen to be in Vienna between Christmas and Lent (a period known locally as Fasching) you should definitely attend a ball. These grand events are steeped in tradition and are open to all. Tickets need to be bought in advance and balls are organised by profession. The most opulent is held in the State Opera House while the Coffee House Owner's Ball in the Hofburg Palace comes a close second. A grand opening ceremony kicks things off then it's your turn to hit the dance floor…
Tip: Ladies: Wear comfortable shoes. You will do a lot of standing and as I realised to my detriment, while heels might look nice, long ball gowns hide a multitude of sins (namely flats).
As the author of 'Interpretation of Dreams' Sigmund Freud was the undisputed founder of psychoanalysis. His research and works formed the basis of 'couch-based-counselling', a scene now synonymous with movie shrinks across the world.
Freud lived in Vienna during his most prolific working years and his house is now open to the public. Now a museum it showcases the waiting room, consulting room and library as well as meeting room for groups to hear lectures. You will see original furniture, personal items, photographs and consulting couch as well as videos narrated by his daughter Anna.
Tip: Definitely worth reading up on Freud before your visit as this museum is geared very much towards Freud's fans. Come here to see how the man himself lived, rather than to learn about his works.
Few things bring such innocent pleasure as a cosy café, steaming cup of coffee (hot chocolate or tea…) and a deliciously naughty slice of cake. Fortunately, for those visiting Vienna, this is a cultural necessity and one you should go out of your way to embrace. Café's in Vienna are easy to find, though two of the best should definitely be sought out: Café Demel and Café Central. The first was opened in 1786 and is still as refined today (although frequented less by empresses and more by the likes of myself…) while the latter is a popular meeting point and coffee-lovers watering hole with around 1,000 cups served here every day.
Tip: In Café Demel you need to order your cake at the front display. You'll then be given a ticket which you hand to your waitress once seated.
If you like a good palace Vienna is a hard act to beat. From the Hofburg Palace, a former imperial edifice comprising of 2,600 rooms, and no fewer than 54 staircases to The Belvedere, two baroque-style palaces of 18th century origins, you can easily spend days exploring what Vienna's palaces have to offer. Perhaps the grandest off all is the Schloss Schönbrunn, which come with vast gardens, Gloriette overlooking the palace, an orangery, labyrinth, theatre, Roman Ruins, and a baroque style zoo. The zoo alone can take a day to visit, so if you want to take it all in you'll need to dedicate a few days to your cause.
Tip: If you are planning to see a lot and are here for the weekend buy the Vienna Card. For €18.50 as well as all your transport for 72 hours included, it also gets you discounts (sometimes up to 50%) on attractions, sights, museums and more.
Vienna's fast food is as refined as its 'slow food'. Think healthy snacks rather than calorie ridden burgers or kebabs (though they are of course available should the craving hit…) Something of an institution in Vienna is Trzesniewski. This 'fast food outlet' is a bustling eatery on a side street off the main shopping precinct. As you enter you'll see a scattering of seats on your right while to your left is a glass fronted display cabinet proudly showcasing mini slices of wholegrain bread with an array of innovative toppings. You go along the counter selecting the ones you want – three is a good number to start with…
Aside from open sandwiches, sausages are another popular Austrian snack bought from the many Würstelstand's dotted around the city.Mustard and a bread roll (Semmel) are its partners in crime.
Tip: Order a Pliff to accompany your bite-sized sandwiches in Trzesniewski. This mini-tankard of beer is just the right amount of amber nectar to wash it all down with...
As well as the usual high street stores, Vienna also does pretty well when it comes to boutiques and independent stores. One fine example for those interested in traditional Austrian dress is Loden Plankl. This traditional shop sells accessories (think socks, scarfs and gloves) on the bottom floor while upstairs you are treated to an array of traditional Dirndl dresses, shorts, Lederhosen leather trousers, hats and jackets. The place to go if you want to fit in with the locals…
For sugary delights you should check out Café Demel across the street. This refined and previously high society café is now welcome to all and offers not only a warm place to sit and enjoy a cup of coffee and slice of cake but also a shop packed full with chocolate laced delights, including the popular 'langue de chats'.
Finally, shopaholics shouldn't miss the colourful Naschmarkt held between Karlsplatz and Kettenbrückengasse, Monday to Saturday. With stalls selling food from soups spices and sausages to stalls peddling fruit, vegetables or cakes, you should get your hands on what you're looking for. Saturday also hosts a flea market, where antiques, clothes and shoes are also on display alongside the usual tasty treats.
Tip: Shops tend to be shut in Vienna on Sunday's. A select few cafes and restaurants will have their doors open, just make sure you check before you leave to avoid disappointment.