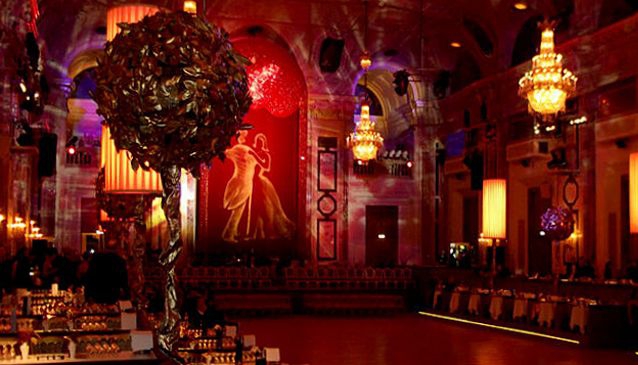 Having a Ball in Vienna
Arts & Culture
In a blur of sequins, silk and suited gentlemen, the room became awash with couples spinning.
There are many reasons to be charmed by the culture of Vienna. Indeed, in the weekend spent soaking up all the Austrian capital had to offer I found nothing disagreeable outside the minus eleven degrees my skin gallantly endured. Buildings were grand, people were polite and the hustle and bustle that normally associates itself with a capital city was notably absent. The city also makes pretty good cake.
Combine all the above with 'Fasching', the period between Christmas and Lent where Vienna comes to life with an array of jovial balls, and you have a city that values the renaissance of team morale. While most of us are struggling through the most depressing months of the calendar, the Viennese are stepping into their ball gowns, trussing up in their tuxes and letting their feet waltz them firmly into the new year, smiles on their faces.
It was therefore, with much delight that I accepted the assignment to report on one of the grandest balls in the Viennese calendar, deftly combining my love of glamour (yes, I know, you couldn't tell from looking at me) and cakes so elaborate that you fear even a camera flash will spoil their perfectly manicured exteriors: Ball Wiener Kaffeesieder, or the Viennese Coffee House Owner's Ball.
Traditionally, balls in Vienna are held by profession, something which still rings true today although I was assured my presence as a travel journalist, and not a coffeemaker, wasn't likely to get me dismissed. Tradition also dictates the programme for the opening ceremony, where an orchestra plays in a selection of young debutants dressed in long white gowns who waltz with their tuxedo-clad partners. Back in the 19th century this dance would have acted as the introduction to the teenage girls' appearance on the social scene, displaying their beauty and grace to potential suitors. While it has clearly lost connotations of husband-hunting, the chance to dance in an opening ceremony for these young girls is still very prestigious, and competition to gain a place in the group is fierce. All girls take dance lessons when they are young and those wishing to open a ball have to make the grade (and have a willing partner). The appeal however, isn't hard to comprehend; for any young girl to dress up like a princess (because let's face it there's only likely to be one other day in their lives they'll have the occasion to wear a long white dress) and dance the waltz in such spectacular surrounds with a live orchestra and a sea of admiring faces must be worth a few hours dance practice.
Something indeed, I would come to wish I'd had. More on that later…
Stepping foot in the Hofburg Palace on the eve of the Viennese Coffee House Owners Ball and I imagined just for a moment how it must feel arriving for the Oscars. Red carpet and men in dark suits, a string quartet playing in the background and an array of women wearing ball gowns so sumptuous they must surely be on a budget of value beans and shared baths for the rest of the year to pay back their creditors. It was every bit as lavish as I'd imagined and despite one very beautiful dress (borrowed from a friend) I couldn't help feeling as though I wouldn't make it past the gatekeepers.
Once inside however, the nerves started to melt as the sheer luxury of Vienna's former Imperial Palace took over. The centrepiece, a decedent, flower-fringed staircase led up to a balcony from which you could access a plethora of bars and ballrooms, of which the main would surely have made even Mr Suave himself, James Bond, swoon.
Tickets to sit here were priced accordingly and for prime seats you would struggle to get much change for £250 per head. It is here that the opening ceremony is held and here that the highest of Vienna's high society would spend their eve. A few eager non-seated guests can watch the opening ceremony in the main ballroom – though it requires patience and a pair of comfortable shoes, as you'll be in for a wait.
Once the splendid opening ceremony had come to its conclusion as the dancers of the Vereinigung Wiener Staatsopernballett had pirouetted, Daniela Fally had sung two of Johann Strauss' classics to the crowds and the young females and their partners of the Elmayer-Vestenbrugg dance school had performed their three set pieces in their white gowns and tuxedos to the harmonies of the Opernballorchester, it was our turn… 'Alles Walzer' from the front of the ballroom marked the start of the public dance, and in a blur of sequins, silk and suited gentlemen, the room became awash with couples spinning.
While the main ballroom was alight with the joys of the Viennese waltz, the peripheral rooms were also feeling the weight of elegant couples keen to put their moves to the test. As I stood to the side taking it all in it was clear who had put some practice in beforehand… and who was just winging it. I stood very firmly in the latter camp though I'm afraid to say it didn't stop me from getting involved (after a glass or two of champagne I hasten to add). After warming up in the blue 'jazz' ballroom I headed over to the main ballroom where my partner in crime and I ended up blagging it to monumental proportions slap bang in the middle of the dance floor. I have to say I did feel slightly overwhelmed (possibly because I knew I couldn't bust out the 'worm' if all else failed) but the experience of being part of such a collected gathering was not to be sniffed at. It was notable that people really had come here to dance. Yes, the bars were frequented, but rather than providing focus (and causing carnage so often witnessed at big events) it was the dance floor that saw the elbows come out and the territory marked.
As the night progressed people started to dance with more vigour, polkas and quicksteps provided feet with impetus and Viennese sausages with bread and mustard started entering the halls to provide fuel for weary bodies. Some of the casualties to spinning stilettos headed to the seamstress who once again, returned broken ball gowns to their former glory. While those whose inhibitions had earlier kept them away now brought them out in their dozens.
For those looking to rest their feet a coffee room by the entrance, decked out as stylish red bar, offered sanctuary while many chose to wander the displays of ornate cakes, entered into competition by the coffeehouses themselves. Picking a winner I'm sure was as unenviable as chomping down on the sweet-laced creations was guaranteed to be divine (though, that I'll never know…)
Balls typically last until the early hours, with many staying until 4:30 am, before being picked up in a traditional fiaker carriage and winding down in a local café, or Wiener Würstelstand (traditional Austrian hotdog stand and popular snack of choice for many locals, day or night). Upon leaving women are handed gifts (a beautifully designed fan), while the gentlemen on this occasion were handed a small bottle of something strong (and as yet unidentified).
Coats collected and taxi waiting my first Viennese ball was drawing to its close. Indeed, as I write this Vienna's ball season is shutting shop for another year; no doubt to return next year brighter and better than ever before as singers, dancers, musicians, cake-makers, tailors and palaces prepare for another season of elegance and splendour. For there are top attractions in Vienna, many reasons to come, but surely this encompasses them all?