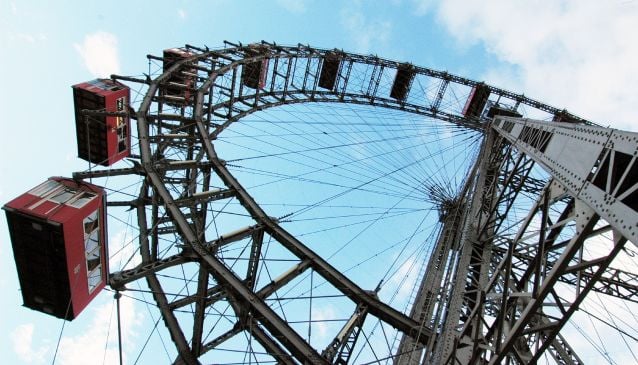 Child Friendly Vienna
Arts & Culture
A city designed for young children that ensures sightseeing is enjoyable for the entire family
Vienna is one of the most beautiful, elegant and popular cities in Central Europe. It is a destination that attracts everybody: couples, students, groups, business travellers, etc.... But what about the smallest, yet most important travellers that visit our city - the kids?
Vienna is GREAT for families, especially for younger children - why? The truth is very simple and straightforward: Vienna loves children and has put considerable effort in the past decades into making most of its famous sights, restaurants and cafés as attractive and welcoming for the little ones as possible. Vienna, as many capitals in Europe, offers many child-friendly accommodations, restaurants, museums, tours and much more. A visit to Vienna with your young ones is certain to be a special and memorable experience - take these two practical examples:
There is no need for cars or taxis to get around the city here. Public transport is the best option to get about, convenient and very cheap - with the luxury of allocated spaces for baby pushchairs that allow you to place your pram in a position not to interfere with other commuters.
Vienna is a bike city - bike rentals allow you to select smaller bikes for smaller people, or adjust the seats accordingly to your children's needs.
How does a whole day touring Vienna with kids sound like? No problem: Vienna's sights and venues are all located very much in the centre of the city, easily accessible by public transport - so sightseeing is mostly fun, stunning, short and sweet! The majority of your chosen hotels will bewithin close proximity of the city centre. Most of these hotels are inclusive of green inner courtyards that will give families the opportunity to relax after an exciting day sightseeing. Alternatively, try one of Vienna's many "special kids-areas" or playgrounds that are located throughout the city where children get a chance to release steam and play.
Food in Vienna is healthy, child friendly, delicious and mostly organic. Austria is one of the pioneer countries in organic and biodynamic food production - quality food needs to be accessible to all members of society and should not just be something for the social elite. It goes without saying that restaurants here offer excellent quality food at excellent value for money. Most of Vienna's restaurants are very well equipped to welcome kids, and they are very aware that they are serving the customers of the "future". Check our child-friendly 'Kids Welcome' restaurant page or our 'All for Kids' section where you will find many suggestions offering diverse entertainment and exciting places for your children. Nearby playgrounds or entertainment areas for kids are frequently found here - Vienna understands that parents should enjoy their meals while still being able to watch over their playing kids.
In recent years Vienna has also been very good to make its attractive museums attractive to the younger generations - this was not always the case: previously there was simply no space, exhibition or room designated for children. But this has changed! An excellent example of great learning experiences in an art environment is the ZOOM Children's museum. Here, they will get the chance to sink their teeth into exhilarating activities such as painting classes taught by professionals. Other excellent places to visit are The Schonbrunn Palace, the Schonbrunn Zoo (the oldest one in the World), the Natural History Museum or the tropica Butterfly House - and many more.... All of which have an emphasis on ensuring younger visitors remain enthusiastic!
Still, one of the best place for both our "little" locals as well as their fully grown compatriots remains the Prater Amusement Park. This area and park is more than 100 years old and world famous. And still has its preserved old fashioned charm that is so often lost in the more modern parks you find all around the world. To begin with, take a ride up our globally famous Viennese Ferry's Wheel. You will love the panoramic views over Vienna. It is the perfect start to an unforgettable day with countless rides and endless attractions.
Last but not least - if nothing else works to put a smile on your child's face - this alternative is a guaranteed success: Wherever you go, Vienna boasts confectioneries, ice cream parlours and coffee houses on every corner of the city – it's a must for the whole family! Vienna's hosts hundreds of traditional coffee houses with its delicious sweets, tarts, pies and ice cream - try visiting the Demel confectionary or the Zanoni ice cream parlour to indulge in sweet treats that won't disappoint!
And there is always an economic edge to all holidays: take advantage of many cheaper rates for the younger visitors in Vienna - bring your kid's ID, since many of the attractions allow children to enter for free or at a discounted rate. As for the transportation, kids up to 6 years of age always travel for free. Another Important consideration is that during our school holidays as well as on Sundays, and on public holidays, all children up to the age of 15 can ride for free on public transportation.
Vienna is a really childproof and family-friendly city where you can be sure that the entire family will have a great time! Come and see for yourself!