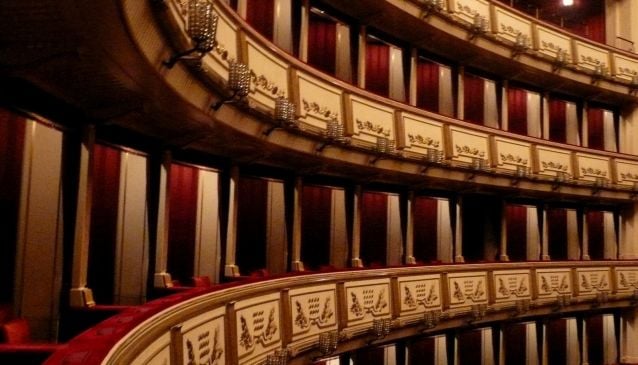 Musical Charms of Vienna
Arts & Culture
Vienna's streets still resound with some melodies from the Imperial Era.
The world thinks of Vienna as a cultural capital in Europe. Not only for its innumerous art attractions and architectural heritage, but also for its reputation as a city that has been synonymous with classical music for centuries; a city that has been the birthplace of incredible creations such as the waltz or the operetta. Everyone knows that Vienna was the home of many renowned composers, including Mozart, Beethoven, Schubert and Strauss.
This city's outstanding musical heritage has been preserved right to the present day; still today Vienna's streets resound with some melodies from the imperial era. Vienna still boasts a multitude of locations that witness the exhibitions of hundreds of talented artists on a yearly basis. In fact, around 30 ballets and 60 different operas are presented every year, with performances running daily.
When looking at Vienna's history, its musical richness is easily explained. Only during the reign of Maria Theresia (the female ruler of the Habsburg dominions ), from 1740 to 1780, as many as 500 part-time musicians and singers were employed. This was part of the archdukess' plan to promote and implement a wide variety of both financial and educational reforms. Some even suggested that "during the period ranging from 1740 to 1800 more music of recognized greatness was composed in Vienna than in any other city of the world".
Back then, however, concerts were typically performed in house salons or private theaters, rather than in bigger and more accessible concert halls, which became more popular only in the latter centuries.
Needless to mention, the Viennese State Opera is one of the most magnificent and outstanding neo-renaissance opera houses of the world. Both opera lovers and curious visitors fill this building, which however never seems to be overcrowded. If you get a chance to buy a ticket for one of the operas here, you surely won't be disappointed. But during the warm Summer days, a big screen on the right façade of the Opera will give you a virtual sneak peak of the acts.
The famous "Theater an der Wien", opened in 1778 in the Viennese Mariahilf district and directed by E. Schikaneder, the famous librettist of Mozart's Zauberflöte, is another perfect place for any classical music enthusiast. Since 2006, this has become more of an Opera House and it hosts its own company's performances. If you're looking to view some more diverse operas, operettas as well as musicals and first-class ballet performances, then the Volksteather, with its diverse programme, will fulfill many of your musical desires. More traditional concert venues are the Viennese Musikverein and Vienna's Konzerthaus, also a hub of beautiful Art-Noveau architecture . More original musicals that were first performed in Vienna and have been exported as far as New York and Tokyo, can be seen at the Ronacher Theatre, the Raimund Theater and the Metropol Theater.
Another unchallenged and unchallengeable musical highlight of Vienna is "Vienna's Boys Choir", the beginning of which can be traced as far back as 1498. This is a choir made of 100 Viennese boys between 10 and 14 years of age who give about 300 concerts every year. They thrill the concert-going public around the world and are described as Vienna's youngest ambassadors. In Vienna, you can see them at the Holy Mass in the Hofburg Chapel on Sundays from September to June or in the "MuTh" (an abbreviation for Music and Theater), which is their new concert hall by the Augarten, right next to the Augarten Palais, where the boys learn, live and sing.
If you're looking for a musical journey through time and space, then the Museum of Sound (in the historical palace of Archduke Karl), will be the best option for you, especially if you have kids. Here you don't only hear the music: you can also see, feel and create your own sounds. At the end you even get to conduct a "virtual philharmonic orchestra" which is great for the younger visitors!
Vienna is also one of the world's capitals of soul music and it can also be the stage for your performance. In fact, some underground places around Vienna will give their talented visitors the chance to sing, make music and jam. Vienna locals love jazz and soul music - nowadays, some of the top international musicians from all different genres love to perform in Vienna in cabarets, bars and concert halls; performances are usually sold out and it is sometimes hard to get a ticket. Our best places to visit are listed below.
If you're a jazz fan, you have surely heard that Vienna offers an out-of-the-ordinary and underground place called Jazzland – in the Schwedenplatz area. But one other outstanding place is ZWE, a place that only a few Viennese know, located right in the "Danube Channel district" – the hottest music area in Vienna!
For some more upscale Jazz evenings Porgy & Bess, with a bigger stage and comfortable seating options, is a great choice. Here, artists such as Gulda, Zawinul and Johnny Fischer had some of their breathtaking performances.
For the soul and funk lovers, the weekly "Soul Fever" sessions at Fledermaus will be just what you've been looking for. On some open-mic nights, you'll even get the chance to show off your singing skills!
Vienna isn't only a Holy Grail for classical music and concerts: since the 1990s, when the DJ duo Kruder and Dorfmeister introduced the "Viennese Sound" to the world, Vienna has been on the forefront of more upbeat music.
The Flex, a subway shaft transformed into a club that won the prize for having the best sound system in Europe, regularly hosts international DJs such as Trentemøller or Carl Craig. Another two underground locations, right a few meters from the feet of the famous Ferry's Wheel, are Fluc and Fluc_Wanne. These two clubs are dedicated to music ranging from electronic to minimal, to hip-hop and trap beats as well as indie-disco ones.
A bit further down South, towards the Prater, you'll find Pratersauna – a newly redesigned but older club where generations have been going to party since it was first opened in 1965. At Pratersauna you can be part of weekly events such as the Praterei or listen to known Viennese collectives like The Loud Minority; here it's mainly about electro, minimal and deep house beats.
…Yes, throughout the centuries (and with a visible early advantage) Vienna has undergone a constant, successful and powerful development on the musical front - it remains till today, world class.... Vienna is waiting for you, whatever your taste in music is!